A step-by-step guide on how to create a text group on iPhone. Also, learn how to change group chat names in iMessages iPhone.
Often at times, when you want to chat or spread a piece of similar information to multiple people at once, you indeed prefer a straightforward method. Instead of sending a particular message to everyone one by one, it is really to send that one specific message to everyone at once in a group. Yes, you read that right you can make a group chat on your iPhone and can share all your valuable messages at once in a group message. You can chat with multiple people over there with straightforward steps. Second things these messages are protected by end-to-end encryption.
If you do not want to continue to be a member of any imessage group chat. Follow these easy steps to remove from group text.
This article will not only help you how to create a group text on iPhone 11 but will also help you to name that particular group chat for your convenience and proper interference. Also, in this article, you will get to know the solution to the problem you people face when you mistakenly send a message to the wrong chat group. The resolution of this problem is to name the group chat according to the group's work. We will be covering this particular problem's solution in this article with their methods and step-by-step instructions. Let us have a look at these methods and their following steps.
How to create a text group on iPhone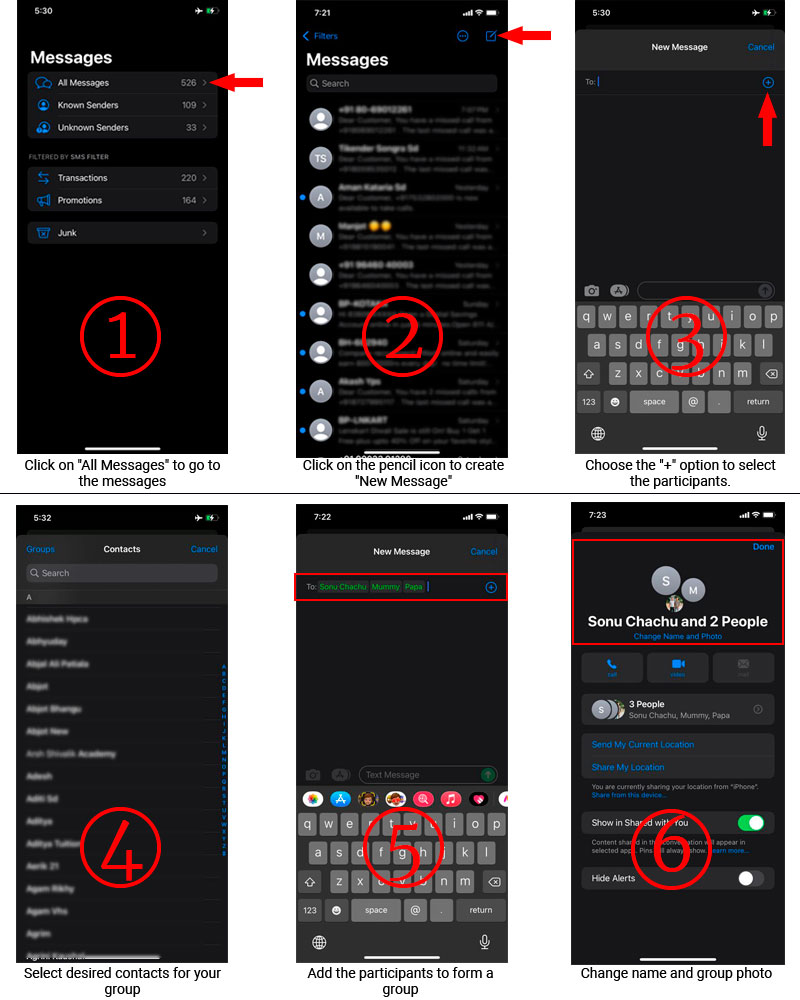 Here we will discuss all the methods and their step-by-step procedure on how to perform them on your iPhone 11 and the other versions of iPhone. Let's have a look at these steps.
Step 1 : Firstly, you need to go to the Messages app on your iPhone, click on the "All Messages" and follow the next step.
Step 2 : In the uppermost right corner, you will see a pen or pencil icon. Click on the pencil icon, and this way will redirect you to a new screen to create a new message. 
Step 3 : Now you have to select the names of the contacts you want to keep in the group. For this, you need to choose the "+" option to select the participants and tap on done.
Step 4 : Now tap on the arrow or the number of the people in the group and go to the next step.
Step 5 : Tap the group info icon, which will just appear on the top of your phone under the group's members' names icon. 
Additionally, tap on change name and group photo, and there you go and change according to your preference. Remember that if this step does not show on your iPhone, some group members are not using the messaging app. So, changing name and photo can only be done if all the group members are on the messaging app and are using it.
If you are done with the above process (this means each person is using the messaging app), then in the name bar, type the name of your group according to your own choice.
Now tap on done to save the group's name, and now tap on done to close the edit view.
Step 6 : Once you are done with the above steps, you have now completed all the steps to create a group on your iPhone, and now you can freely talk to multiple people simultaneously.
How to change Group Chat names:
Here in this method, we will help you to name the group chat which is already made. Often, the groups are already made but are not named and so what do you do to name them and make them memorable from the other groups? Of course, you choose to name them differently according to the group's aim for which it was or is made. So are we here to help you out with the following steps:
In this, the first step includes opening the chat conversation. For this, first, you will have to go into the messaging app and tap on the group chat you want to name. On the uppermost side, you will see a small arrow or the group name. There, tap on the info icon.
Tap on the group name change icon. In the name's bar, type the group's new name according to your wish and remove the existing group name by deleting it.
Tap done to save the new group name and again tap on done to close the edit view. This group name will show all the participants who are members of the group and will be the same for all.
Some Frequently Asked Questions:
Q1. How many people can be there in a group text?
iPhone users and Apple devices have a limit of 25 people in a group text who can be added to a group according to the apple Tool Box blog, but also, if you are a Verizon user, you can only add up to 20 people in a group chat. So make sure this number is adequate and so you can easily create a group with more than 15 people in a group chat.
Q2. Can I name a group text with non-iPhone users?
You can only name group iMessage, not MMS or SMS. If there is an Android user in the group, you won't be allowed to change the group name or photo in the group chat. So for every member to perform this step smoothly, ensure that all the participants are IOS users, not Android users.
Q3. What does it mean when your iMessage goes from blue to green?
This means that, if your message is being sent in green, it is being sent as SMS on Android devices. Whereas when the message appears blue in color, this means iMessage is being sent to Apple users. Also, this should be clear that when you are disconnected from the internet or typing a message for Android users, your message will always appear in green color.
Q4. What is the best group text app for iPhone?
For the best group chat app on iPhone, you can use Whatsapp and iMessage. Whatsapp is great if you have a number of people who don't use an iPhone or an iPad. iMessage is great when you want to create a text group for iOS users. Also, iMessage is highly recommended as the best app for creating a group chat and texting multiple participants.
Conclusion:
Summing up the article named, 'how to create a group text on iPhone11', we have cleared all the steps and methods to create a group and name it. You can easily follow these steps to make a chat group on your iPhone and rename the same group in the future. The methods to rename a group in iPhone while you are already in the existing group are also provided for you to give a different name to different groups for extinguishing each group from the other. These methods can be done by both iPhone users as well as Android users.
If you have any related queries, comment down any related questions in the comment section below!