Sometimes, Wi-Fi really can be disturbing for us and can be a hindrance to our works. Either it doesn't work, or you may be out of town. In such cases, what do you do with your iPhone? You pull down the control center and turn on Cellular data. But iPhone shows an error while using this data because it shows 'an update is required to use cellular data on this phone. Although you have already updated your iPhone to iOS 15, you can still use this cellular data because of this unknown error.
So, here in this article, we will be covering the same mistake and its solution for all of you. All iPhone users already know that cellular data comes in handy on their phones, so you all want to fix it. And no doubt, we are here to do the same. Let's look at all the solutions and their step-by-step methods on how to use them. Also, we have listed other steps based on your iOS versions for you to perform the steps according to your iPhone versions.
How to fix an update when Cellular data on this iPhone:
#1 Force Restart iPhone
The very first method to fix this issue is restarting the iPhone. Sometimes we people continue the iPhone because of multiple software glitches, forcing us to restart the iPhone. This time is needed for using cellular data. This will be different for different models users of iPhone. Don't worry; we have step-by-step instructions for all the versions of the iPhone. So let's look at each of them below.
For iPhone 6 and earlier iPhone6 versions users:
There is just one simple step for all you out there. You have to simply press and release the home button as well as the sleep/wake button. This needs to be pressed for few seconds together until the Apple logo displays on the screen.
Once the logo is displayed, you are done.
For iPhone 7 users:
There is again just one simple step out there. Press the volume down button and the lock button continuously together for few seconds.
An Apple logo will appear on the screen. Release the two buttons, and you are done.
For iPhone 8 or later versions users:
The very first step is pressing and releasing the volume up button.
Next now press and quickly release the volume down button as well.
Now press and release the side button until the Apple logo appears. And remove the buttons.
All three buttons need to be pressed for 3 to 4 seconds, and you are done.
#2 Updating your iPhone
There is no doubt that your iPhone needs an update. Updating phones fix several software glitches and add to the more advanced features of the phone. By updating your phone, you can use cellular data. Here is how:
In this, the very first step is to go to the settings app on your iPhone. Now you will get an option of 'General'. Tap on the 'General' option.
Now in the General section, scroll down and search for Software Update. Once you get the Software Update, tap on that and follow the next step.
If your phone is of the older version, your phone will show a software update, which needs to be updated and installed and then your issue will be solved. If your iPhone is already updated, then there is no need for any update. But once the update is on, your problem will be solved, and you can then use Cellular data on this iPhone.
Is your iPhone taking time to update iOS 15? Check here for best solution.
#3 Enable and disable airplane mode
This is yet another method on the topic; an update is required to use cellular data on this iPhone. This is one of the commonest things that we all have done on our phones when the data on our device does not work properly. So here, we will be providing step-by-step instructions on enabling and disable airplane mode on your iPhone to use cellular data. Follow these steps listed here:
The first thing you have to do is search for the settings app on your iPhone. Go to the settings app.
In the setting app, you will find an Airplane mode option; switch it on. Once the Airplane mode is on, you will see an airplane sign in the notification bar at the network tower location. Please wait for 2 minutes over there till it gets on.
Once the Airplane mode is turned on, switch it off again by toggling it off.
Alternatively, you can also perform this by reaching the Control center and switching on the Airplane mode over there.
This method can easily let you use cellular data over your iPhone by performing a simple and basic step. Also, this will take just a few seconds, and your work will be done in less time and less effort.
#4 Resetting Network Settings on your iPhone
This is another crucial settings option that can be done to prevent any issues related to cellular data use. But also, it must be noted that it erases all the saved Wi-Fi passwords, VPNs, APNs and Cellular settings. So they must be backed up. Now let's have a look at the steps to reset network settings on your iPhone.
Please search for the Settings app on your iPhone and open it.
Tap on the general option and open Reset.
In Reset, open Reset Network Settings.
Now enter your iPhone passcode and tap on Reset. The work will be done.
If you forgot you password. Check here to reset you iPhone.
For iOS 15 and later versions, you can follow these steps to set network settings: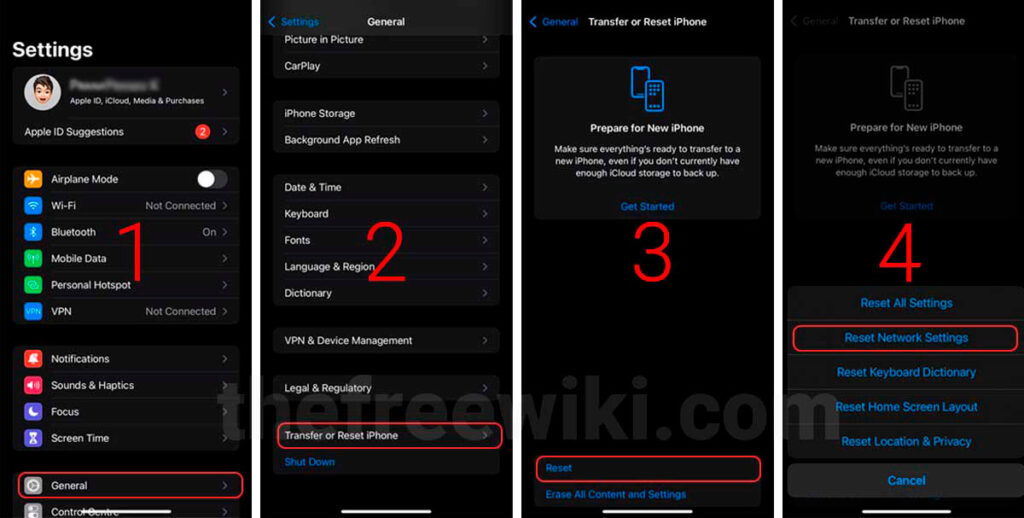 Open settings and tap on general. Choose Reset iPhone or transfer.
The next step is to Reset and, in it, choose Reset Network Settings.
Now enter your iPhone lock passcode and try after reboot once. And you are done with network settings. Also, do not worry about other media and personal data as this setting won't be erased.
Network settings, once reset, will allow you to use Cellular data over your iPhone easily. Also, it is less time work, and this will save your time too.
#5 Reset all Settings
Resetting all settings erases all the locations that are done by you on your iPhone and sets it to default. Also, not to worry, this only resets all personal settings but not erases your data, so they are safe. Let's look at the guide on how to do this.
Here these steps are for iOS 15 and later versions:
Go to the settings app and tap on General.
Search transfer or reset iPhone. Tap Reset and select reset all settings.
Another step in this method is entering your passcode. Enter your passcode.
The last step is to tap on Reset all settings, and after a reboot, it will be done.
Here are the steps for the same method for iOS14 and earlier versions:
Again the steps are the same. Go to the settings app and tap on the general option.
Tap on Reset and search for Reset all settings over there. Hit reset all settings.
Enter your passcode; it will ask you to enter, and you are done.
The last step is to just confirm this Reset by tapping on Reset All Settings.
Once reconfirmed, all the settings will be reset, and therefore your iPhone will allow you to use cellular data over any network.
Conclusion:
Coming to the end of this article named An update is required to use cellular data on this iPhone, we came to know that by some simple and easy steps on our different iOS versions, we can easily fix the issue of cellular data not working on your iPhone.
Feel free to use any method you like according to your iPhone preference and their versions. However, my opinion is that updating your iPhone method is the best, easy and simple method for you to use. It will update your phone as well as solve this issue and in no time. This will also update all other features and settings of your phone. So go ahead and try this method; you will find it easy. It will solve all your system issues and will fix them. Also, leave any related comment in the comment section below to solve your query!